I found this awesome abundance of possibility at Reuze it on the square in Canyon...$35! I could not pass it up. My 4 yr old is love with it but I made it clear that it is intended for my classroom. I can't wait to see my students retelling stories! I think it will be an awesome assessment tool, great for building oral language, & sequencing skills. :) Plus I think they will have tons of fun with it! I recently created a new project on Donors Choose requesting puppets, so hopefully that will receive funding & my students will have access to the beautiful Folkmanis puppets! If you have not seen these, be sure to check them out they are awesome characters!
Folkmanis
My favorite is the cow that has a tongue that hangs out. Can't you just hear the giggling now when I pull out this comical critter?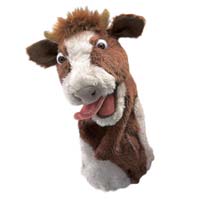 Here are a few more I requested on the project.